Aldo Cedrola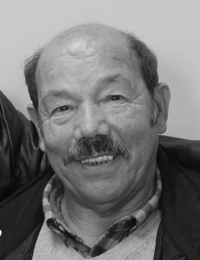 Aldo Dioccio was born in Abruzzo, Italy and moved to England in the early 1960s. He first lived in Lancaster then moved to Slough.
During World War II there were many prisoner of war camps across Britain. Prisoners of war are people who were captured by the enemy during wartime. The man in this photograph was a Polish prisoner of war working at Tithe Farm in Wraysbury, Berkshire.
This handmade Christmas card was sent by a soldier from Slough to his wife Amy in 1945. It was sent whilst he was stationed in Italy during World War II.